This event was planned for Winter 2014, but was canceled. The details are left up for reference.
Date:  January 11, 2014

Time:  10:00am-4:00pm

Venue: Auburn University Student Union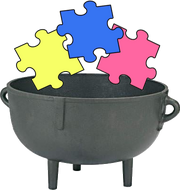 Our fifth puzzle potluck, Puzzle Potluck 5, will be held in January 2014, and will be organized by Steven Clontz.
Like previous potlucks, this wiki will serve as the official home page for the event.
The full title for this potluck is Puzzle Potluck 5: Iron Puzzlers. Unlike previous potlucks, players should not, and cannot, prepare custom puzzles beforehand...
Players should contact the organizer at steven.clontz@gmail.com to let him know they will be attending. Confirmed players are listed below (feel free to add your name yourself, but shoot Steven an email as well if you don't mind!)
Kelly Bragan
Robert Ford
Eric Harshbarger
Andy Owens
Zachary Sarver
Players will be divided into two or three teams before the event based on participation. Information on teams will be added later.
Materials to Bring
Edit
Players will be designing puzzles on-site. Each person should bring at least the following materials:
Anything brought to the party is fair game to be used in creating puzzles. Please mark any materials to be used as part of a puzzle but returned at the end of the game, without identifying yourself as the owner.
Players will need to provide their own lunch to be eaten during the game. Classes will be in session, so the student center restaurants *may* be open for business.
Game Format and Rules
Edit
This potluck will be different than previous potlucks.
At the start of the competition, the organizer will reveal Secret Ingredient 1 and Secret Ingredient 2. Each mystery ingredient may either be a physical item or an abstract concept.
Each team must collaborate to create two puzzles: Puzzle 1 and Puzzle 2, one for each secret ingredient. Three copies of each puzzle are required: one for each opposing team, and one for the organizer's group. A solution must also be written out for each puzzle.
After the design phase, each team will be given a set amount of time to solve the puzzles designed by the other teams. Teams will not know which opposing team designed which puzzle, but will see the title "Puzzle 1" or "Puzzle 2" and know which Secret Ingredient it corresponds to.
When time elapses, teams will read the solution to their puzzles, and consider the merits of each puzzle based on these criteria:

Concept: Is the puzzle the right balance of fun, difficulty, and originality?
Polish: Is the puzzle free of errors or other rough edges?
Secret Ingredient: Did the puzzle use the secret ingredient in a clever way?
Teams will choose which incarnation of Puzzle 1 and Puzzle 2 best exhibits each trait, and the designing team will receive 1 point for each vote. The team with the most points wins.
Example of Scoring
Edit
Each team can earn up to 12 points: 3 for each category (Concept/Polish/Secret Ingredient) times 2 for each puzzle, times 2 for each opposing team. Here is an example: https://docs.google.com/spreadsheet/ccc?key=0AjtY6G2AjPh0dEFlMDdUalAxeVd4Qi05UHdqS1A3cGc&usp=sharing
In the case of a tie, all players on the tied teams win the competition.
Most Valuable Player
Edit
All players will also be asked to vote on the MVP (Most Valuable Player) for their team. Any criteria may be used to make this decision. Players are recommended to be prepared by bringing supplies, and to take leadership of their team during the design and solving phases (but remember the saying about too many chiefs, not enough not-chiefs).
Disqualification
Edit
The organizer reserves the right to disqualify or penalize any team which purposely or inadvertently breaks the written rule or spirit of the competition. He won't, but y'know, don't be a jerk.
Administration
Edit
Steven Clontz has volunteered to organize this potluck, and will provide the following:
Copies of Eric's puzzle potluck Code Sheet for each team to use when designing and solving puzzles.
Ballots for voting on puzzles.
The Secret Ingredients.