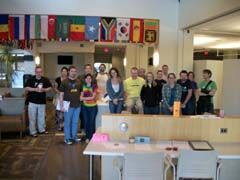 Do you enjoy a good puzzle? So do we! We're a community of puzzle creators and solvers in Auburn, AL (and others who travel to join us) who plan and play regular puzzle parties and puzzle hunts, and this is our wiki.
Upcoming Events
[
]
EPP17: The Joke's On You- Saturday, April Fools' Day, April 1, 2017
Potluck6:

Auburn Puzzle Party Potluck 6

- July 2017
APP7: To be announced
What's this About?
[
]
The goal of this wiki is to provide a central location to see information about all Auburn-area Puzzle competitions: past, present, and future. We hope to expand upon Eric Harshbarger's EPP page to also include Auburn Puzzle Party competitions and other events and puzzles of note.
Parties, Games, and Events
[
]
Following are lists of Puzzle Parties/Hunts/Potlucks and related events organized by series.
Eric's Puzzle Parties

EPP

- "The 2004 Puzzle Party"

EPP2

- "The 2nd Puzzle Party"

EPP3

- "PUZZLES FROM WONDERLAND"

EPP4

- "DECATHLON"

EPP5

- "Auburn PuzzleHunt!"

EPP6

- "DECATHLON II"

EPP7

- "A Most Egg-celent Puzzlehunt"

EPP8

- "Puzzle Marathon I"
EPP9 - "Puzzle Marathon II"
EPP10 - "The Abecedary"
EPP11 - "Puzzle Potluck"

EPP12

- "Back to Basics"
EPP13 - "Your Lucky Day?"

EPP14

- "Hatching a Devious Plan..."

EPP15

- "Eric's Circle of Friends"

EPP16

- "DeCAThlon III"

EPP17

- "The Joke's On You"

Auburn Puzzle Parties
Auburn Puzzle Party Potlucks
Other

Mathematical Puzzle Programs
The Players
[
]
A comprehensive list of player data can be found on this page: Player data