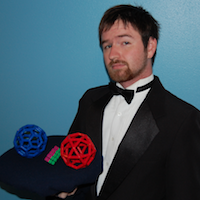 Auburn Puzzle Party 4: Auburn Puzzle Patrol was a puzzlehunt organized by "Blue Team" (the winning team from APP3: Quantum Leap) in the Fall of 2010. Its theme was the formation of "Auburn Puzzle Patrol", a superhero group dedicated to defeating the evil "Enigmatic Legion". The Black Team, captained by Tim Hardwick, won the event.
Its original (and now defunct) website was at the address http://auburnpuzzlepatrol.com
Organizers
Edit
Main Organizers

Charles Pilman
Alex Byaly
Scott Varagona
Kelly Bragan
Daniel Brice
Anna Wan
James Dabbs

Assisted by

Jonathan Clark
Jessica Clontz
James Hammer
Erin McMullin
Zack Sarver
The Commissioner (played by Steven Clontz) has been tasked with organizing the first ever Auburn Puzzle Patrol to protect the city from an unknown yet imminent threat. This threat soon reveals itself as the Enigmatic Legion: a supervillain group comprised of the Librarian (played by Kelly Bragan), King Rook (played by Scott Varagona), Compass Rose (played by Daniel Brice), and Blackjack (played by Anna Wan).
With the assistance of Butler (played by Charles Pilman) and Informant (played by Alex Byaly), the Commissioner turns the neutralization of this threat into a competition - the team that takes down the Enigmatic Legion becomes the Auburn Puzzle Patrol!
APP4 included 20 puzzles, including an opening run-around/"Henchman" puzzle, 16 regular puzzles, and four metapuzzles / "boss" puzzles.
Team formation allowed for large teams with no cap on "ability" level. Teams could be composed of up to eight players, with a ninth or tenth player allowed if sufficiently many new players were a part of the team.
Each puzzle was worth 100 to 500 points, and the team with the most points at the end of the game emerged the victor.
Run-around Puzzle ("Henchman" puzzle)
Normal Puzzles

Librarian Puzzles
King Rook Puzzles

Puzzle 6
Puzzle 7
Puzzle 8
Puzzle 9

Compass Rose Puzzles

Puzzle 10
Puzzle 11
Puzzle 12
Puzzle 13

Blackjack Puzzles

Puzzle 14
Puzzle 15
Puzzle 16
Puzzle 17

Boss Puzzles, a.k.a. Puzzle Rumble

APP4: Puzzle #18 (BOSS) - Rumble with the Librarian
APP4: Puzzle #19 (BOSS) - Rumble with the King Rook
APP4: Puzzle #20 (BOSS) - Rumble with the Compass Rose
APP4: Puzzle #21 (BOSS) - Rumble with the Blackjack
In a self-described "brilliantly stupid fashion", Clontz lost the team listing for this event.
Permission was granted by Ronald Jenkees for the use of his music in APP4.